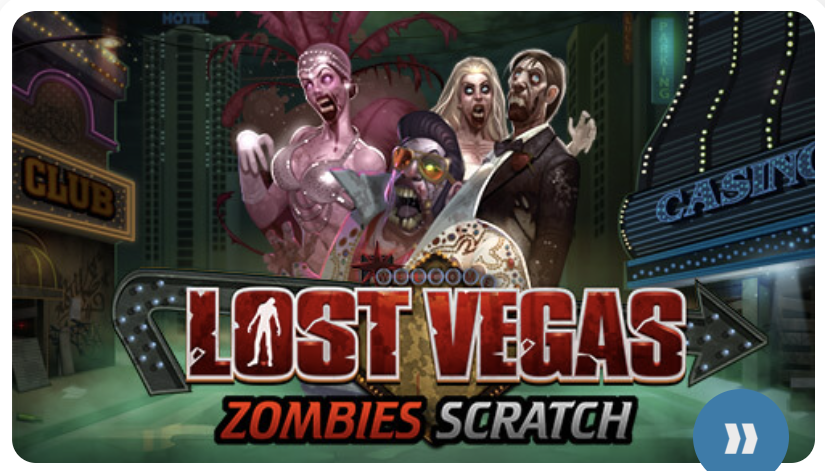 If you're a fan of horror, specifically zombies, this is the game for you.
We can't seem to get enough of these creepy creatures from shows like Walking Dead, movies like World War Z to video games like The Last of Us; there is no denying we love them.
Lost Vegas Zombie Scratch game is by Microgaming, one of the biggest and most reputable provider in the industry. This marvelous slot is interesting, creepy and funny all at the same time. It's skillfully made with good animations as well. Absolutely a sensational slot game in the making!
Theme
This game will transport you to the city of Las Vegas which has been hit by a Nuclear disaster. It is set in a post apocalyptic narrative of the famous and glamorous casino strip. The gamblers have fled for their lives and the zombies took over the city, searching for brains and flesh.
This gambler's paradise has become a nightmare, fallen to a zombie invasion. Its original graphics and background music creates the eerie feel of walking down the streets in a zombie infested city.
What makes this game so enjoyable is you have the option on how to you play. The slot features two modes; one in which you'll get to survive against zombies and and another mode in which you'll take on the role of zombie yourself. Both come with their own unique special features.
The theme carries flawlessly to the bonuses. Which ever you chose all also dictate which of two bonus rounds you will be eligible for and both shared random bonus features at various times during normal game play.
Who can best lead a zombie empire other than The King, Elvis Presley, impersonator! He is accompanied by a showgirl and a nurse. An elderly tourist and a well dressed couple can also be seen with them. On the other hand, the group of survivors composes of a security guard, casual player with a gold club and a rugged high roller in a suit. A waitress and what seems like a Vegas working girl completes the group.
In either mode it's the character symbols that payout the highest.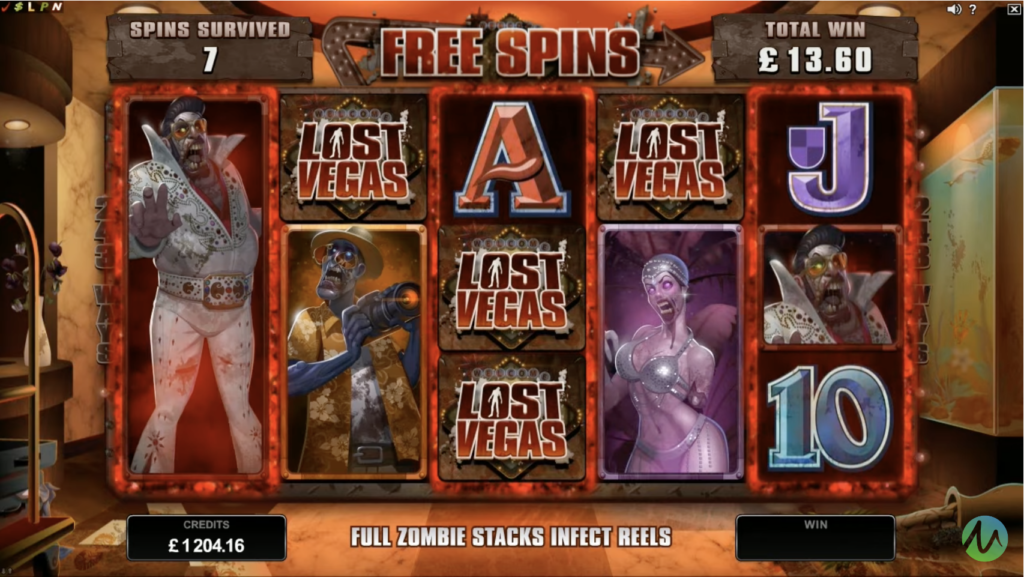 Features
The game is splendidly optimized for mobile play and the framework has a 5×3 reels.
There are multiple ways to win rewards in this game like through scattered symbols and stacked wilds. When scatter symbols appear anywhere on the reels, a random feature will be triggered and will remain active during all free spins.
There are also two cool spin features.
Whether you chose Survivor mode or Zombie mode, the reels feature five unique characters associated with the theme you chose in conjunction with nice lower paying card symbols. The biggest payoffs are matching 3 or more characters across the winning pay line.
You'll never run out of fantastic features in this game. The top bonuses, Zombie Fist of Cash and Blackout Bonus, are playable in both modes and are triggered randomly.
A zombie hand will randomly appear, exhibiting that the Zombie Fist of Cash has been triggered, earning you a hefty amount of cash.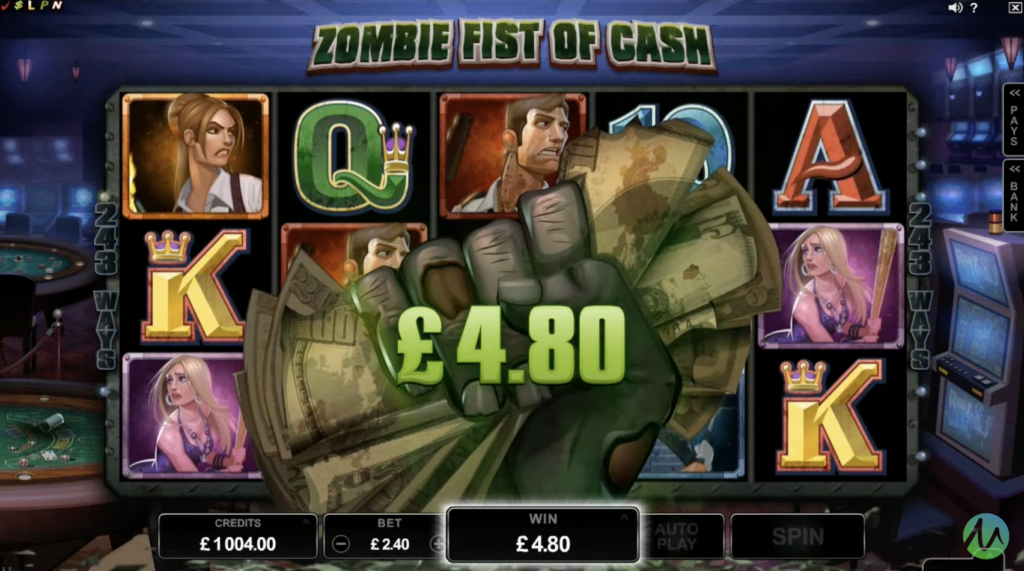 The game will switch to a night vision more when the Blackout Bonus is triggered. The higher value symbols on the reels render a random cash payout. When you're currently in this feature and you have a scatter on the reels, you'll automatically unlock one of the slot's 2 free spin features.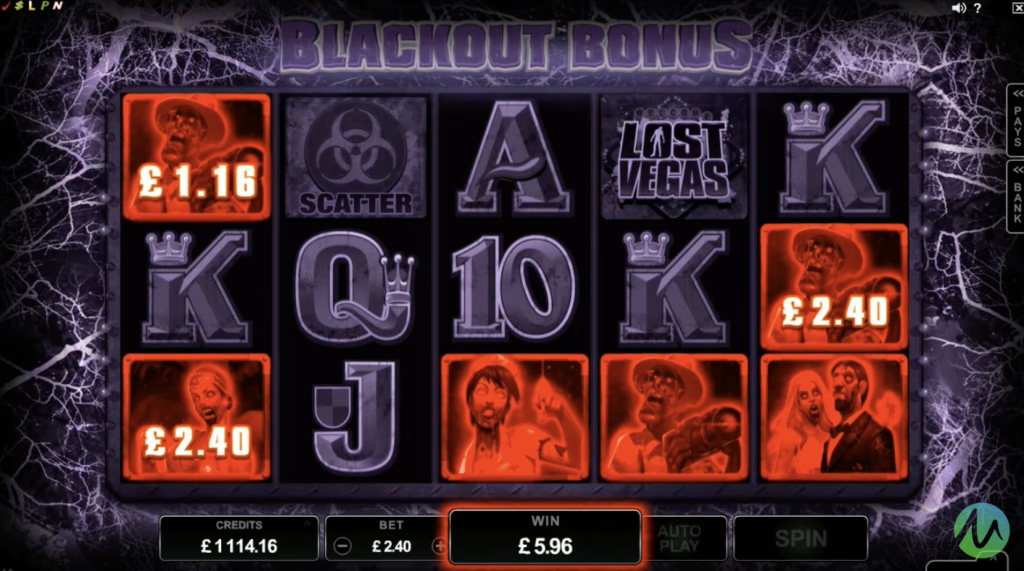 Survivor Mode VS Zombie Mode
The Survivor mode gives you the chance to remove low value symbols. When you trigger the free spin feature as a survivor, it offers an opportunity to remove the low paying card symbols on the reels, giving way to more valuable characters and earning more from the bonus. You can unlock free spins by landing 3 or more Hazard scatters anywhere on the reel and you automatically win a cash prize before the free spins even start.
The Zombie mode triggers an infection feature. You can trigger the free spin feature by landing three hazards on the reel. However, in the zombie mode, an infection feature goes along with it. This will stack zombie wilds all over the reals. Free spins in zombie mode only finish when all 5 reels are 'infected' or you've reached 50 free spins.
See which casino is right for you, click here